July 2013 was spent in residence at Storm King Arts Center. We (my family accompanied me) were thoroughly spoilt by the hospitality extended to us. Here, through introductions and recommendations by the President, Director and staff, research was conducted into the geomorphology, social history, flora and fauna and relevant matters in the area. A relationship was developed between representatives of the descendants of the Indigenous People of the area, the Lenape (len-NAH-pay) Delaware – first making contact with representatives prior to our arrival in USA.
At the time of European contact in the 16th and 17th centuries the Lenape Delaware had inhabited the area around and between the Delaware and lower Hudson Rivers including Manhattan Island. Over the next centuries they suffered serious population loss and disempowerment from the impacts of European colonisation. Finally most were forcibly removed to reside in the state of Oklahoma. Another example of many terrible legacies exacted against Indian Tribes by the colonists which are yet to be seriously addressed.
I flew to Oklahoma, finding it hard to believe that these people had been relocated so far away – half way across the continent! It was profoundly rewarding to meet, learn from and discuss my ideas with Tribal Representatives, including Chief Paula Pechonick, at the Lenape Delaware Community Center in Bartlesville, Oklahoma <http://delawaretribe.org/home-page/about-the-tribe/>.
It was my hope that I would gain support for proposing a project for Storm King and they would consider engaging with me on this journey. Their subsequent agreement to engage in principle plus assisting me with advice and information has been empowering – to the extent that inspiration has blossomed!
While in residence at Storm King it was my privilege to meet the acclaimed archaeologist, Edward Lenik, who introduced me to the archaeology of the Lower Hudson/ Manhatten area. Edward encouraged my family and I to meet Chief Dwaine Perry  of the Ramapough Lunaape Nation <http://www.ramapoughlenapenation.org> still living on their traditional lands in New Jersey.
At the conclusion of this meeting, Chief Perry voiced his support in principle for my endeavor to create a project at Storm King.
My family and I left this meeting feeling humbled and empowered, though sad too. We learnt from him something of the ongoing battle they are fighting to rid their lands of toxic waste dumped by the Ford Motor Company in the past, how their lands have been dumped on, stolen and otherwise abused. How a number of their families bare a life of poor physical and mental health and poor standards of living and education due to the effects of the toxins, disempowerment and the struggle of a long running expensive legal battle.
Some Lenape Delaware were dispersed to Canada, I hope to meet with the Canadian Munsee-Delaware Nation <http://www.munseedelawarenation.org> in June this year while undertaking a commission for the RBG Ontario.
One day in the last weeks of my residency at Storm King, when visiting a site within a small wooded area, a very localised violent thunder storm struck. In describing this dramatic event to a member of the tribe in Oklahoma, I was advised 'rain and storms, storms especially, are controlled by entities they call the Pethakhuweyok or thunder beings.  The belief is that these beings or to use the Lenape term, a manëtu or spirit, take the form of giant birds with human heads'.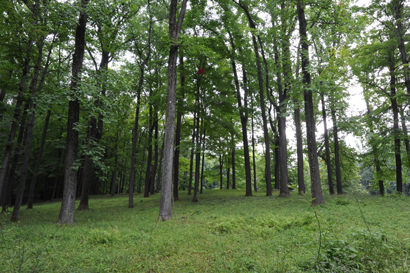 So it is thunder beings that have been behind my inspiration ever since. A scale model was completed here at my home in New Zealand and has been 3D scanned. A computer specialist friend of mine has created a 'walk past' animation using the three sculptural elements within the landscape of my chosen site – the location of the violent thunder storm. To be continued…..
Storm King Art Center, New York, US