I was privileged to be invited aboard the new Rainbow Warrior when she made her special visit to Matauri Bay to pay homage to the original Rainbow Warrior.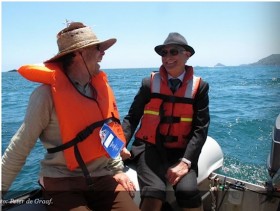 Northern Advocate and Northland Age, 9th Jan 2013 Articles and photo by Peter de Graaf
The new Greenpeace flagship Rainbow Warrior made its first public appearance in New Zealand on January 9 when its crew visited Matauri Bay, described by captain Joel Stewart as "the spiritual home" of the environmental organisation's ships. There the crew paid tribute to the original Rainbow Warrior, bombed by French agents in 1985, and to Ngati Kura, the guardians of the old ship's grave site on the seabed amid the Cavalli Islands.
Those on board Rainbow Warrior III included members of the 1985 Rainbow Warrior crew Steve Sawyer and Bunny McDiarmid, now head of Greenpeace NZ, veteran activist Mike Smith, actor Lucy Lawless and artist Chris Booth, who built the Rainbow Warrior monument at Matauri Bay.
Rainbow Warrior visits Matauri Bay