nac̓θətəɬp "Transformation Plant" was created in consultation with elders and key members of the Musqueam Indian Band, Vancouver, Canada, who also bestowed it's name.
nac̓θətəɬp "Transformation Plant" is a collaboration with nature and community – living earth art.
Weeks before departing for Vancouver to undertake the project, I felt it necessary to try to make meaningful contact with the Musqueam Indian Band leader and cultural advisor, Leona Sparrow, of Vancouver. Her name had been given to me by the Director of the VanDusen Gardens, Harry Jongerden. By posting a gift of my book, Woven Stone, the book would perhaps serve to show the way I work – my work ethics. In the accompanying letter I stressed my sorrow that this proposed project I planned to create in Vancouver would be on a very short time frame (three weeks) without proper time for in depth consultation – the usual way I work.
At the end of my first week in Vancouver, Musqueam Nation Treaty, Language and Culture representatives, Dianne Sparrow, Larissa Grant and Jason Woolman generously came to meet Harry Jongerden (gardens director) and myself for lunch in the fabulous new eco sensitive VanDusen Gardens Visitors Center.
Later they kindly accompanied us to my proposed semi-wilderness, pencilled in site: an intimate grassed clearing defined by mature western red cedar, douglas fir and an ancient rubinia with it's great long wrinkled limbs overhanging protectively. Here, I outlined my living earth art proposal for the site: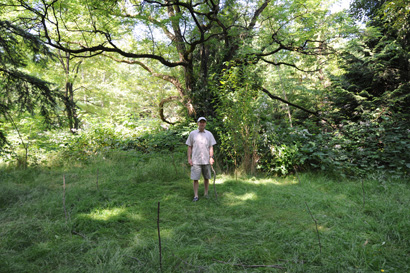 I planned to harness the great recycling ability of fungi to facilitate a very long term (30 +/- years) kinetic living earth art work. 14 large slabs of stone, up to 2 metres high, would be propped up in two circles – 5 in the inner and 9 in the outer circle – like the petals of a partially opened flower – propped up almost vertical by 18 cubic metres of tightly stacked cut wood from pruned tree limbs, fallen trees, branches and washed-up-on-beaches boom logs. 35 blocks of smaller stone were to form a 6 metre diameter low wall surrounding the installation to contain the wood. A small juvenile tree would be planted right in the middle and would flourish over the years into a beautiful tree as the stone slabs ('petals') slowly opened up like a flower because of the fungi breaking down the stacked wood, recycling it into humus.
Examples of the proposed stone to be used were shown. Harry had found a few wonderful discarded and overlooked granite curbstones in the back of the gardens. These, he found out, originated from the Stanley Park seawall that had been built over a hundred years before – more were available hidden under thick brambles on Brockton Point, Stanley Park.
With a great sense of relief, Dianne, Larissa and Jason supported every aspect of my concept. They advised I plant a juvenile western red cedar in it's centre, being their most revered tree (the image below illustrates an old western red cedar on Brockton point). This successful gaining of Musqueam Nation support and involvement with my project was both humbling and empowering! Especially their willingness, when the work was completed, to organise a customary welcome and blessing ceremony and to name it!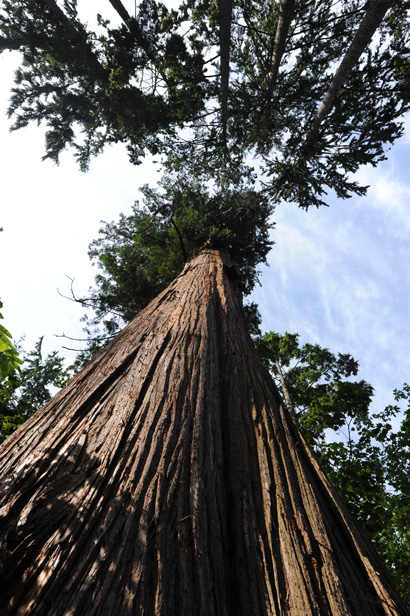 Approval gained meant enrichment – meaningfulness. What I was about to do seemed to mesh in synchronicity with all that surrounded me amongst the creations of the Musqueam transformer.
Very intense and hard work followed including the selection of suitable slabs and blocks from under the brambles at Brockton Point, Stanley Park. Vancouver Board of Parks and Recreation tractor operator, Joe, was invaluable with his skill hauling the rocks out from under the brambles. Contractor, Brian Kerr, operating  his truck mounted Hiab deftly lifted, then delivered and, with me, precisely placed them in position on site at VanDusen.
VanDusen volunteers and guides assisted most days. They were wonderful, their ages ranging from in their 30's into their 80's! In fact if it wasn't for them and one volunteering guide in particular, Malcolm Hunter, I would not have been able to complete the work – and, to add to the work load, in the second week I came down with a horrible illness that left me in bed for 5 days requiring antibiotics to cure!
Musqueam Indian Band ceremony 2nd August 2012.
Larry Grant (see image below, standing second from left), elder, welcomed those that attended in h-un-q-uh-mi-n-uhm (Musqueam language) and in English. He touched on Musqueam history describing how the great transformer changed their supernatural first ancestors who descended from the sky, wrapped in clouds, into their present form as rocks, animals and features of the landscape that remain to this day. Musqueam thus do not simply belong to the land, the river, the living creatures here; they are those places and beings.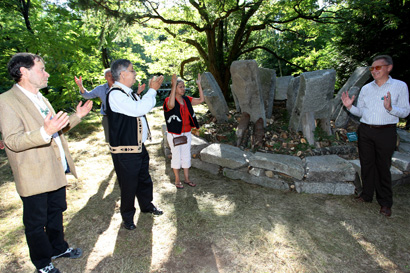 The blessing followed.
Wafting a sprig of western red cedar about her, over the work, Thelma Stogan, shaman – in a semi trance, chanted in h-un-q-uh-mi-n-uhm – starting to the east, she turned several times and honoured each point – east, north, west, south…. again east. Finally she entered among the leaning slabs and the stacked wood to gently waft the sprig over the now revered juvenile western red cedar. She 'blessed' the total presence according to Musqueam traditions. Quiessence  prevailed over the place and all who witnessed the ceremony.
Larry announced the name they had given it: nac̓θətəɬp 'Transformation Plant".
nac̓θətəɬp "Transformation Plant" was created between the 10th July – 2nd August 2012 at the invitation of VanDusen Botanical Garden Earth Art Exhibition and was curated by John Grande (see image above John Grande on right with artist).
Five artists participated: Nils Udo, Germany; Urs-P Twelllmann, Switzerland; Chris Booth, New Zealand and local artists Nicole Dextras and Michael Dennis.
Photo credits: Musqueam ceremony images by Raymond Chang, last image provided by John Grande, three detail images above this by David Barker, remaining images by the artist.
Van Dusen Earth Art Exhibition, Van Dusen Botanical Garden, Vancouver, Canada (11 July – 30 September)